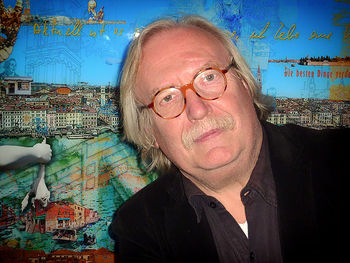 »Hatte man vordem vielen vergeblichen Scharfsinn an die Entscheidung
der Frage gewandt, ob Photographie eine Kunst sei - ohne die Vorfrage
sich gestellt zu haben: ob nicht durch die Erfindung der Photographie
der Gesamtcharakter der Kunst sich verändert habe...« Walter Benjamin
»Jeder kann knipsen. Auch ein Automat. Aber nicht jeder kann beobachten.
Photographieren ist nur insofern Kunst, als sich seiner die Kunst des
Beobachtens bedient. Beobachten ist ein elementar dichterischer Vorgang.
Auch die Wirklichkeit muss geformt werden, will man sie zum Sprechen
bringen«

Friedrich Dürrenmatt, schweiz. Schriftsteller (1921-1990) 1906 - 1999
Through its esthetical impression, Collposings reflect a mixture of the traditional collage style and the software designed composing that enables art being realized by using a computer. The term "Collposing" is a coinage developed by Wolfgang Neisser which comprises "Collage" and "Composing" to underline both Neisser's technique and style of his large-sized pictures and projections. Recapturing various art and culture projects into a yearly edited agenda by using interactive presentation forms.
Eva Degenhardt and Wolfgang Neisser are working hand in hand at their inter disciplinary art bureau "philosophiekunst" to make their art projects more accessible to any of their clients. Unique art and cultural characteristics of European cities and landscapes are composed to a multilayer context in order to reach the viewer's perception. The illustration of museums and other exposed places of art form a condensed entity of the artistic exhibits and its related buildings.

* in Gummersbach
wohnhaft in Köln

Studium Grafic-Design - 4 Semester Kunstgeschichte an der TU-Berlin

Beruflicher Werdegang als Grafic-Designer, Art- und Creative Director in unterschiedlichen Werbeagenturen Deutschlands und der Schweiz.